China factory ro water purifier treatment plant,500LPH-1000LPH reverse osmosis water filtration plant
Depósito de acero inoxidable automático o manual tipo 1000LPH comercial purificador de agua purificada purificador de agua planta, fábrica de China 500LPH planta de filtración de agua de ósmosis inversa
Reverse osmosis process uses semi permeable spiral wound membranes to separate and remove dissolved solids, organic, pyrogens, sub micron colloidal matter and bacteria from water. Feed water isdelivered under pressure of approximately 16 kg / cm2 through reverse osmosis membranes. Water permeates the minute pores of the membrane and is delivered as purified water. Impurities in the water are concentrated in the reject stream and flushed to drain. Reverse osmosis is capable of removing 90-99% of total dissolved solids (TDS), 99% of organic, including pyrogens, and 99% bacterials in the feed water.
When you ask me the price ,please tell me what's water are treating in? How many TDS of the source water? Is it 220V/50Hz 0r 60Hz?What;s the purpose of final water to you want to be? Do you have the source water test report or not? if you have it ,please give it to me then we can offer you the correct price.
El proceso de ósmosis inversa utiliza membranas espirales semipermeables para separar y eliminar los sólidos disueltos, orgánicos, pirógenos, sustancias coloidales submicrónicas y bacterias del agua. El agua de alimentación se entrega bajo una presión de aproximadamente 16 kg / cm2 a través de las membranas de ósmosis inversa. El agua impregna los poros diminutos de la membrana y se entrega como agua purificada. Las impurezas en el agua se concentran en la corriente de rechazo y se enjuagan para drenar. La ósmosis inversa es capaz de eliminar el 90-99% del total de sólidos disueltos (TDS), el 99% de los orgánicos, incluidos los pirógenos y el 99% de las bacterias en el agua de alimentación.
Cuando me preguntes el precio, por favor, dime, ¿qué está tratando el agua? ¿Cuántos TDS de la fuente de agua? ¿Es 220V / 50Hz 0r 60Hz? ¿Cuál es el propósito del agua final que desea que sea? ¿Tiene el informe de la prueba de agua de origen o no? Si lo tiene, por favor entréguelo, entonces podemos ofrecerle el precio correcto.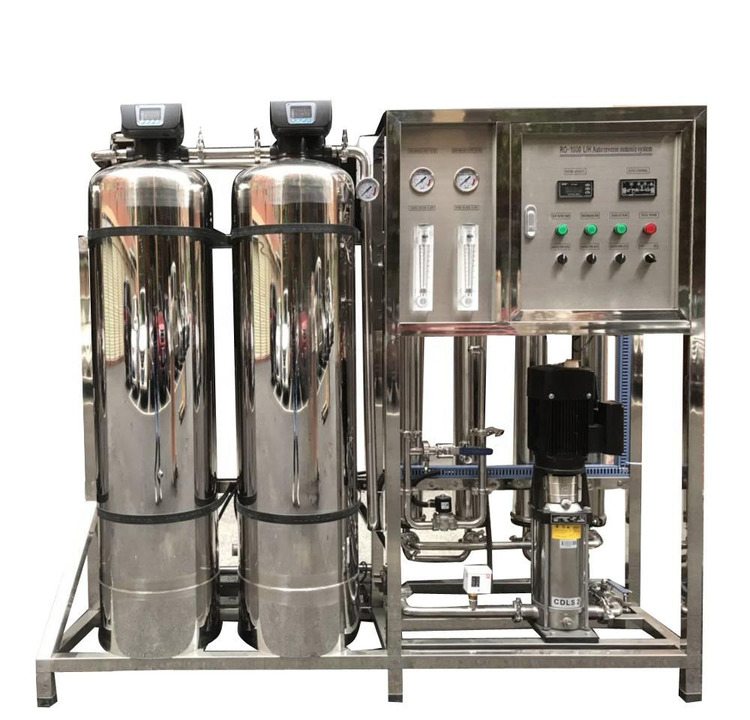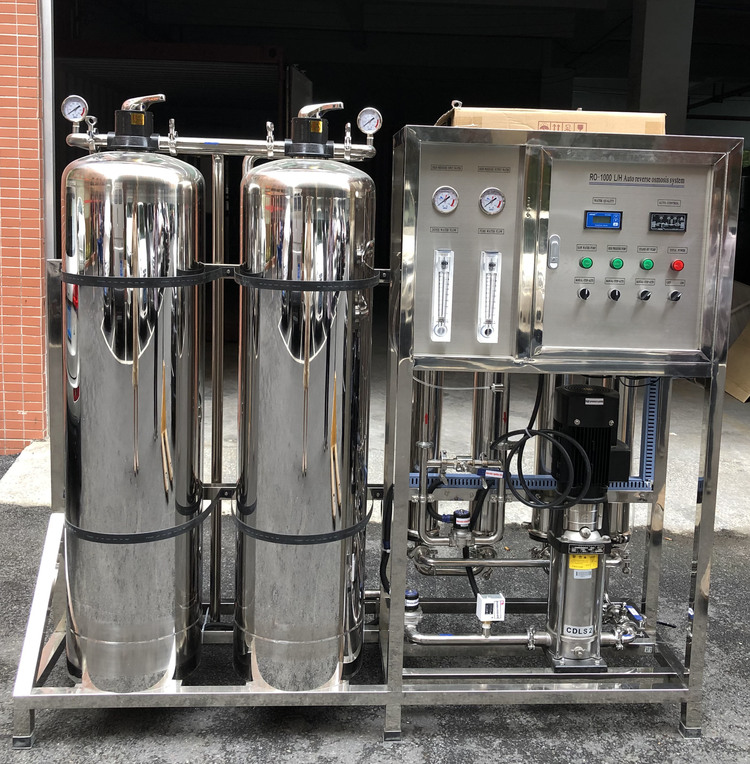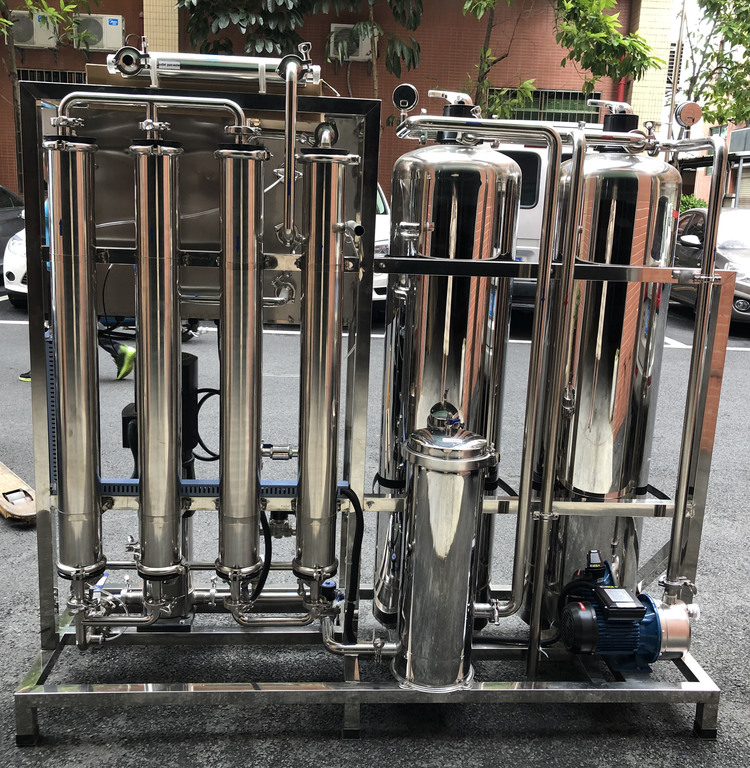 1.Can run and produce water continuously, highly automatic
2.No need chemical to regeneration,easy operation and maintainance
3.RO system uses imported USA DOW membrane
4.Automatic switch on when lack of water,and switch off when no water or full of water
5.RO membrane auto wash and reduce the pollution speed.
6.Low-pressure switch protects high-pressure pump from damage cause by water supply stops.
7.Production water condutivity meter monitors water quality online contionuosly.
8.Input water and dense water pressure meters, monitor the RO differential pressure and remind the time of washing.
Principales características
1.Puede correr y producir agua continuamente, altamente automática
2.No necesita químicos para la regeneración, fácil operación y mantenimiento.
El sistema 3.RO utiliza la membrana importada de los EEUU DOW
4.Automático se enciende cuando falta agua, y se apaga cuando no hay agua o lleno de agua
5.Realice autolimpieza de membrana y reduzca la velocidad de contaminación.
6.El interruptor de baja presión protege la bomba de alta presión de daños causados por paradas del suministro de agua.
7.El medidor de conductividad del agua de producción controla la calidad del agua en línea.
8.Introduzca medidores de presión de agua y agua densa, controle la presión diferencial de RO y recuerde el tiempo de lavado.